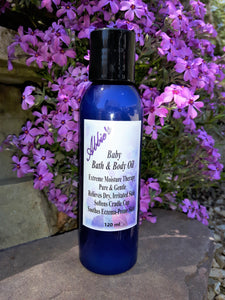 Abbie's Natural Skin Care Products
Baby Bath & Body Oil 120ml
Regular price
Sale price
$16.52
---
We Test on Ourselves Instead of Animals!
Description
A baby oil you can feel good about using. Formulated from all different plant oils and butters, with no nasty mineral oil or fragrance like the other stuff . Specifically designed for your baby's delicate skin and infused with the most gentle essential oils there are. Only the purest ingredients will wrap your baby in a silky blanket of moisture designed to penetrate every layer of their skin, for complete and lasting hydration and nourishment. Pour a little in their bath and allow the warm water to penetrate the moisture even deeper in their skin or apply directly onto their body and scalp and massage in. This Bath and Body Baby Oil is great for dry, irritated, extremely sensitive skin, and amazing for cradle cap.
How to Use
 Add approximately 1 tsp to baby's warm bath or massage directly into skin or scalp.
Ingredients
Active Ingredients
Shea Butter – hailed for it's protecting and emollient properties. It helps to heal the skin from minor wounds and irritations and also helps protect against UV rays. 
Cocoa Butter –  used to heal and moisturize skin that has been exposed to the elements. It also helps reduce the formation of stretch marks during pregnancy by keeping the skin supple.
Coconut Oil --  very comparable to the characteristics of human skin, this oil provides a protective barrier from harsh environmental contaminants without clogging pores so your skin can still breathe.
Sunflower Oil – has high amounts of Vitamins A, B, D and E, minerals, lecithin, insulin, unsaturated fatty acids, and by all accounts, it is a good product for the skin.
Beeswax –rich in Vitamin A, this forms a protective barrier against environmental factors, holds in moisture, and reduces dryness while still allowing the skin to breathe.
Grapeseed Oil – has regenerating qualities, specifically for collagen regenerating and capillary support. Rich in Vitamin E, C, D, and Beta-carotene, this natural anti-inflammatory is very beneficial for healing and repairing lesions, stretch marks and other types of damaged skin.
Lavender Essential Oil – The most gentle essential oil there is and perfect for on babies. It heals all types of skin irritation and relieves pain. It also reduces anxiety and stress, alleviates headaches, and improves sleep and brain function. Buy Pure Lavender Essential Oil
Sweet Orange Essential Oil – circulation stimulator and very effective at combating colds and other sicknesses. It has amazing anti-inflammatory and anti-septic qualities beneficial for treating and preventing all sorts of skin irritations and rashes. It's also a great mood up-lifter and relaxer, as well as a natural pH balancer for the skin. Buy Pure Orange Essential Oil