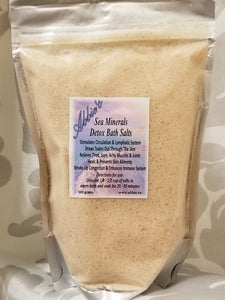 Abbie's Natural Skin Care Products
Sea Minerals Detox Bath Salts 500g
Regular price
Sale price
$21.02
---
We Test on Ourselves Instead of Animals!
Add this blend of synergistic detox salts to your bath to relax, refresh, rejuvenate, and heal your body inside and out. The perfect combination of Dead Sea and Himalayan Mountain salts combined with the toxin drawing properties of Epsom infused with 100% pure essential oils will turn any bath into a natural spa experience. Relieve tired, sore, achy muscles and joints, allow the immune system building oils to break up and eliminate congestion, while toxins that are weighing you down are being continuously drawn out of your body, all while you relax peacefully in your very own private hot spring oasis.
Works well with Body Detox Serum & Bath & Body Oil
How to Use
Dissolve 1/4-1/2 cup of salts to warm bath and soak for 20-30 minutes for best results.
Ingredients
Active Ingredients:

Dead Sea Salts – taken from the most saline body of water in the world with far greater concentrations of minerals than any other ocean. This works with your own body to regulate cell activity and daily functioning, relieving muscular pain and stabilizing fluid levels in the body.

Himalayan Mountain Salts -- this salt is hand-mined and harvested from ancient salt beds deep under the Himalayan Mountains. Rich in over 80 minerals and trace elements, this salt is used to relax the body, stimulate circulation, soothe sore muscles, and remove toxins.

Epsom Salts – the salt in Epsom has a very high mineral content that duplicates the benefits of a hot spring. It has anti-inflammatory properties and when absorbed through the skin, it draws toxins from the body, sedates the nervous system, reduces swelling and bruises, and relaxes muscles.

Dendric Salts -- has a special star-shaped molecular structure with a high liquid absorptive capacity to allow it to pull the essential oil molecules in to keep them from being oxidized by the magnesium in the salts. The delicate essential oils are carefully infused in this before being mixed with the other salts.

Juniper Berry Essential Oil – very effective in weight loss and detoxification blends because of it's superior diuretic properties. This stimulates circulation just beneath the surface of the skin and helps to dissolve fat cells and improve blood flow, proving very useful in treating cellulite and spider veins.

Ginger Essential Oil – very effective at treating colds and flu, nausea, rheumatism, coughs, and circulation issues. The stimulating warming properties help to relieve muscular cramps, spasms, aches, and joint stiffness.

Lemon Essential Oil – very effective immune system booster and disinfectant great for killing bacteria and airborne germs and viruses. This also has been proven to be great for improving memory and mental accuracy and concentration as well as a circulatory stimulant that aids in the breakdown of fat cells and cellulite.

Rosemary Essential Oil – stimulates cell renewal and improves circulation to reduce the appearance of broken capillaries and varicose veins. This also helps to overcome mental fatigue and sluggishness by stimulating and strengthening the entire nervous system. It enhances mental clarity while aiding alertness and concentration.

Spearmint Essential Oil – Great for soothing irritated skin because of it's natural local/topical anesthetic properties. It helps ease headaches, migraines and other pain, relieves upset stomach, and releases congestion and opens your airways to help you breathe easier.

Pine Long Leaf Essential Oil -- has antiseptic and anti-inflammatory properties to be used in the treatment of arthritis, joint and muscle aches, gout and rheumatism. It is specifically indicated for respiratory problems and is also very useful in cases of intestinal disturbances, inflamed gall bladder, urinary tract infections, and chronic cystitis.


Eucalyptus Essential Oil -- has exceptional healing properties beneficial for healing the body inside and out. This is fantastic on skin ailments such as burns, blisters, wounds, insect bites, and skin infections. It is also very helpful in relieving sore muscles and joints.