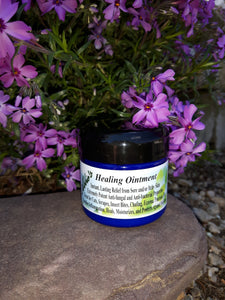 Abbie's Natural Skin Care Products
Healing Ointment 60ml
Regular price
Sale price
$25.53
---
We Test on Ourselves Instead of Animals!
Description
Formulated with only the most pure and natural ingredients, this complete healing ointment protects and heals the surface of the skin while absorbing deep with it's potent antibacterial, anti-fungal, and antiseptic properties to blast any type of infection that may be starting beneath the surface. Enriched with natural pain relievers, this cools on contact and eliminates any discomfort cause by soreness or itching. This healing ointment is great for cuts, scrapes, insect bites, chafing, eczema, psoriasis, and any other type of skin irritation.  
More Healing Products
How to Use
Clean affected area and gently apply a small amount to the area as needed. 
Ingredients
Active Ingredients:

Beeswax – rich in Vitamin A, this forms a protective barrier against environmental factors, while also holding in moisture and reducing dryness without suffocating the skin.

Shea Butter – hailed for it's protecting and emollient properties. It helps to heal the skin from minor wounds and irritations and also helps protect against UV rays.

Coconut Oil -- very comparable to the characteristics of human skin, this oil provides a protective barrier from harsh environmental contaminants without clogging pores so your skin can still breathe.

Aloe Vera -- has antibacterial, anti-fungal, and antiviral compounds that help prevent wound infections and also contains vitamins and minerals that stimulate collagen synthesis and skin regeneration.

Sunflower Oil – has high amounts of Vitamins A, B, D and E, minerals, lecithin, insulin, unsaturated fatty acids, and by all accounts, it is a very good product for the skin.

Soy Butter – non GMO and very high in lecithin, Vitamin E, and Omega 3 fatty acids, this has the ability to replenish significant moisture loss as well as restore the lipid barrier to allow your skin hold in moisture for longer periods of time.

Raw Honey – full of antioxidants, vitamins, minerals, and natural enzymes to moisturize, heal, and work overtime to keep your skin young and healthy. It's antibacterial and anti-inflammatory properties soothe and protect the skin from infections with it's naturally low pH that bacteria simply cannot survive in.

Menthol Crystals – provides a cooling sensation that instantly alleviates the feeling of pain and/or itching.

Egyptian Frankincense Essential Oil – has antibacterial and anti-inflammatory benefits to the skin, making it ideal for acne-prone skin. It promotes healthy cell regeneration and keeps existing cells and tissues healthy. For this reason, it helps eliminate sun spots, removes micro-wrinkles around the eyes and cheeks, and tones and tightens skin all over the body.

Egyptian Myrrh Essential Oil -- greatly benefits aging skin. It has strong anti-inflammatory properties that help improve skin tone, firmness, and skin elasticity, reducing the appearance of fine lines and wrinkles. Myrrh can also heal sun damage, chapped skin, rashes, and eczema.

Bergamot Essential Oil -- very effectively prohibits infections, fades dark spots and acne scars, and evens skin tone. This is also great at improving circulation throughout the body and is an amazing natural pain reliever.

Spearmint Essential Oil – Great for soothing irritated skin because of it's natural local/topical anesthetic properties. It helps ease headaches, migraines and other pain, relieves upset stomach, and releases congestion and opens your airways to help you breathe easier.

Eucalyptus Essential Oil -- has exceptional healing properties beneficial for healing the body inside and out. This is fantastic on skin ailments such as burns, blisters, wounds, insect bites, and skin infections. It is also very helpful in relieving sore muscles and joints.

Tea Tree Essential Oil – This powerful immune system stimulant is amazing for the entire body. It has healing properties that extend to fighting all types of infections and broken skin as well as killing bad bacteria and viruses throughout the body.