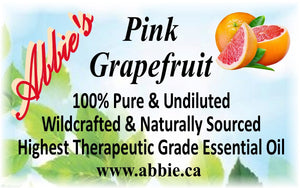 Abbie's Natural Skin Care Products
Pink Grapefruit Essential Oil 15ml
Regular price
Sale price
$12.10
---
We Test on Ourselves Instead of Animals!
Important Information
Essential oils are NOT all created equal
Most companies would have you believe that as long as an essential oil is 100% pure therapeutic grade, it is the best you can get. This is not true. There are other huge factors that go into obtaining a true high quality essential oil and they are, more often than not, overlooked. 
More Essential Oil Info Here 

We only use the very best and we will only provide our customers with the very best. That is our sincere promise to you.  
Therapeutic Properties
 *Please note this list is not complete, therefore it is strongly advised to do adequate research before using Pink Grapefruit Essential Oil*


Is uplifting, energizing, and encourages feelings of happiness

Considered a powerful antioxidant able to kill free radicals

Fights throat and respiratory infections

Suppresses appetite and improves digestion

Helps with weight loss and cellulite reduction

Tightens pores and promotes a healthy complexion

Stimulates circulation, reduces stress, and enhances mood

Increases alertness and calms the nerves

Improves brain function and clarity

Increases energy and improves the immune system

Has amazing antimicrobial and antibacterial properties

A great addition to DIY household cleaners

Plant Part: Peel
Origin: Argentina
Processing Method: Cold Pressed
Cautions: External use only. This Essential Oil has phototoxic properties and exposure to the sun must be avoided after application to the skin. Due to their presence, please consult a physician prior to using this oil. Dilute well before use; May cause skin irritation in some individuals; a skin test is recommended prior to use. Contact with eyes should be avoided.
Essential Oil Safety
Essential oils should never be put on the skin undiluted. There are exceptions, but as a general rule, it is safer to mix them with a carrier oil such as coconut or olive oil first. Most essential oils will burn your skin if applied neat (undiluted and straight from the bottle).

Essential oils being applied to the skin should be diluted in a 0.1 – 5% solution. Babies should never have a solution over 1%. It takes approximately 20 drops of essential oil to make 1ml. To make this easier, I will explain this in drops. 
1 tsp of carrier oil (5ml) + 5 drops of essential oil = 5% solution
1 tsp of carrier oil (5ml) + 1 drop of essential oil = 1% solution
50ml of carrier oil + 5 drops of essential oil = 0.5% solution
50ml of carrier oil +1 drop of essential oil = 0.1% solution
More Essential Oil Safety Here
More Essential Oils